North African nations bring church father to the silver screen. Jayson Casper| March 15, 2019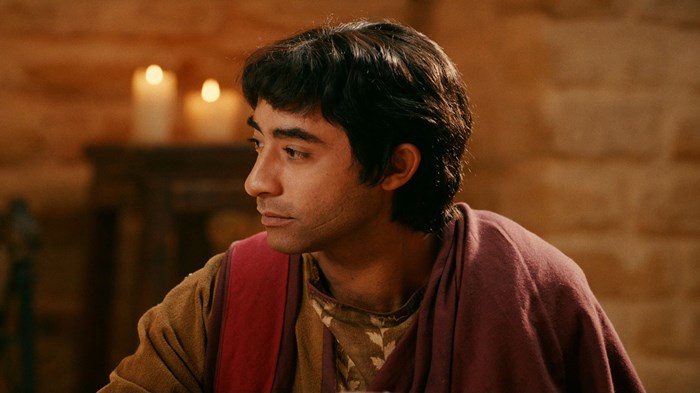 The students at Wheaton College were surprised: Wait, Saint Augustine was African? Current Issue May 2019.
Shown the international award-winning Augustine: Son of Her Tearsfor a freshman seminar that reads his Confessions, they witnessed history brought to life beyond the text, said Sarah Miglio, dean of curriculum.
So did the Muslim actors who depicted the story of the Christian theologian. The cast and creators now want to remind the world—and especially their own people in North Africa—that the church father properly belongs to their heritage.
"The West is more acquainted with Augustine than we are in North Africa," said Aicha Ben Ahmed, the Tunisian actress who played Monica, Augustine's long-suffering mother. "We have a wine named after him here, and it is better known than the saint."
The leading actor, Ahmed Amin Ben Saad, was similarly affected. "Saint Augustine is a very strong and perplexing character," he told Watani, an Egyptian Christian newspaper. "I felt the reverberation of his struggles in my own psyche."
Known historically as Augustine of Hippo, the author of the monumental City of God and Confessions was born in 354 in Thagaste (present-day Souk Ahras) in northeast Algeria, 170 miles from Carthage, in present-day Tunisia.
Augustine is the first known effort to film his story on location with all local actors. With the endorsement and co-funding of the culture ministries of Tunisia and Algeria, it was produced by Abdelaziz Ben Mlouka's CTV, which managed production of Tunisian scenes in Star Wars: Episodes I and II, and Imed Dabbour, the Tunisian American CEO of Lighthouse AW.
Directed by Egyptian filmmaker Samir Seif, Augustine won the audience award at the 2017 Oran International Arabic Film Festival in Algeria and the best artistic achievement award at the Alexandria Film Festival in Egypt last October.
Screened also in Carthage, Algiers, Cairo, and Sfax (when the Tunisian city was designated the Arab Cultural Capital of 2016), the film has captured the attention of the North African elite.
Significant also is that its vision was birthed by a Lebanese Christian.
"Muslim North Africa is anxious for the world to know Augustine was an Algerian," said Henri Aoun, the film's official distributor. "It bothers me that the whole world thinks he was Italian."
Augustine is not Aoun's first collaboration to better acquaint both Muslims and the West with the original Middle Eastern heritage of Christianity. His Damascus, the first Syrian film telling the story of Paul the apostle, premiered in the capital's opera house in 2009.
Aoun believes Augustine speaks powerfully to today's North Africans.
The film covers the theologian's life from childhood until his conversion to Christianity, focusing on his intellect, his immoral lifestyle, his dalliance with Manichaeism, and above all, the tears of his mother.
A bishop once comforted her: It cannot be that the son of these tears should perish.
At the same time, Augustine is interspersed with the in-film portrayal of Hadi, an Algerian documentary filmmaker, who reads Confessions as he produces his own film.
The fictional director also has a child out of wedlock and, like Augustine, neglects the love of his mother.
"Monica shamed her son [Augustine] for his lifestyle," Aoun said. "This is how families in our culture honor right living."
The film's Muslim participants were impressed—not deterred—by its Christian origins and the faith of its hero.
"I'm an actress, and my job is to play a role," said Ben Ahmed, named the second-most-beautiful Tunisian in 2011. "But I was influenced by Monica, whose whole life was lived for her son. It is a good message—a message of peace. [It helps us] feel how a person from another religion feels."
Gregory Lee, an Augustine scholar and associate professor of theology at Wheaton College, praised the historical accuracy of the film.
Beyond showcasing the life and thought of the great church father, it conveys another important lesson: It is plausible that Augustine resembled the Berbers of today.
"Casting Augustine according to what he might have looked like helps us to recognize that Christianity has a wide global heritage," Lee said. "It was very exciting to watch a film about him in his original geographical context."
The Cairo premiere screening, held two years ago in a historic downtown theater, was attended by Egyptian entertainment and religious dignitaries.
"The film shows us that when someone's life is far from God—no matter his religion, Muslim or Christian—at any moment God's grace can change him," said Refaat Fekry, media spokesman for the Evangelical Church in Egypt.
"And the involvement of Muslims shows us there is a shared goal in the Arab world to reduce bigotry and hatred and work together for a better way."
One scene in the film depicts the moment an unconverted Augustine accompanied a Roman legion ready to seize his mother's church. The local bishop told Christians inside to put down their makeshift weapons and pray; according to tradition, the soldiers stood down, leaving the church unharmed.
"I'm praying this film will be seen by present, potential, and former terrorists," said Aoun, "who will arm instead with the truth of God."
As the dynamic former Tunisian minister of culture, Latifa Lakhdar, said, "Creativity is the greatest way to [approach] our battle against those people who would destroy even the most elementary principles of life."
These are messages the young Augustine, played by then-14-year-old Zechariah Dabbour, wants to give to America.
Dabbour identified himself as the only Christian actor in the film. His father, Imed, a Tunisian producer and TV host, wrote the story.
"I lived with Muslims my entire childhood. It was super normal," he said. "When my sister and I went to school we didn't feel scared, or even outnumbered, though maybe a little alone."
Current plans for Augustine include a Lenten season launch in Lebanese theaters, an April screening attended by Pope Tawadros II of the Coptic Orthodox Church in Egypt, and a possible showing at the United Nations. Negotiations are underway for a Netflix release.
True to its international production, Augustine captures the religious and cultural diversity of Roman Africa, now revived throughout the world.
Then and now, the saint's Confessions rings true: You have made us for yourself, O Lord, and our heart is restless until it rests in you.
Whether for American or Arab environments, the search for truth is the heart of the film, Aoun said.
"I would love for people to walk away from this movie and say, 'What does it mean for me today? Where am I in my walk with God?' "
Jayson Casper is Middle East correspondent for Christianity Today.
Have something to add about this? See something we missed? Share your feedback here.